---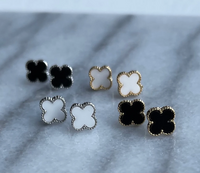 BEST SELLER! Dainty Clover Earrings!
available in:
White-Gold, Silver or Rose Gold
Black-Gold, Silver or Rose Gold
Red-Gold, Silver
Silver Posts
IMPORTANT NOTE: ******THESE MEASURE 1/4 INCH.***** They are dainty.
PLEASE VIEW THE PHOTO WITH RULER/MODEL IF YOU HAVE CONCERNS WITH SIZE.
If these are too small please see my new listing for 1/2 inch silver/white or gold/white.
***I do not pay for returns due to size or refund shipping. I have made full disclosure on size is above.